A partnership between Monarch Alternative Capital and Tourmaline Capital Partners completed the acquisition of The Esplanade, a four-building office complex totaling 906,459 square feet in Phoenix's Camelback East submarket.
The seller is a joint venture between Clarion Partners and LBA Real Estate. Although the sale price was not disclosed, the deal is valued at $385 million, according to the Phoenix Business Journal.
Monarch Alternative Capital and Tourmaline Capital Partners financed the purchase with a $352.6 million variable interest rate loan from CIM Group, show Maricopa County Archives. The four Class A buildings were last traded in late 2015, when current sellers paid $279 million to acquire the LEED Silver-certified asset, according to data from CommercialEdge.
The Esplanade
The complex includes Esplanade I at 2425 E. Camelback Road, Esplanade II at 2525 E. Camelback Road, Esplanade IV at 2575 E. Camelback Road and Esplanade V at 2555 E. Camelback Road, covering an area combined 6.9 acres. The 218,254 square foot Camelback Esplanade III is currently owned by Transwestern and was not part of the sale.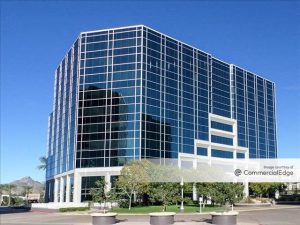 While most multi-tenant structures reach 11 stories, Esplanade V rises to 10 stories. It is also the newest building of four structures that were developed in 2001. The four buildings feature a parking ratio of 3 spaces per 1,000 square feet and offer floors between 24,153 and 26,474 square feet . On-site facilities include a conference and event center, fitness center, and collaboration spaces.
The new owners plan to build on the most recent renovation completed in 2019, with a capital improvement plan that includes expanding amenities, upgrading the lobby and rooftop terrace, and renovating of the communicating place.
Based on data from CommercialEdge, the list of tenants includes WeWork, Greystar, Cushman & Wakefield and Gensler, among others. At the time of the transaction, the Esplanade was over 85% occupied.
In January, office vacancy in Greater Phoenix fell 40 basis points month over month, falling to 14.9%, below the national average of 15.7%, data shows. from CommercialEdge.