Navigating through life's do's and don'ts is daunting at the best of times, and doing all of this while learning who you are as a young person brings added pressures. The sole purpose of Fit Active Beautiful (FAB) is to inspire young girls living in Hamilton's priority neighborhoods to dream big and live big by teaching them to set and pursue goals through running. foot.
FAB aims to break down barriers by providing those who identify as female in grades 6-8 with the leadership and goal setting skills necessary to lead independent lives. And that's exactly what the FAB Girls 5K Challenge did for former member Helena Andric, who also happens to be a former HWDSB student.
After many years of enrollment, Andric found herself with memories and lessons to take with her throughout her life. Remembering herself as a 12-year-old who started the program, the thought of meeting new people and running made her wary. "Once I had gone to a meeting or two, those worries quickly disappeared," Andric said. "The coach's energy was so punchy and fun that I always felt safe and welcomed within the walls of the program."
The impacts of FAB Girls are far greater than physical health work, as the program also provides an empowering environment to develop important life skills like goal setting and resilience. The initiative is not only free for participants, but each FAB girl will also receive all the tools needed to succeed, from food to fuel her body to running shoes.
For Andric, she expresses her gratitude to her young self, saying, "If I could meet me in sixth grade, sitting on the gym floor, I would give her a big hug, thanking her for doing the work that allows me today. to feel so confident and like I belong everywhere I go.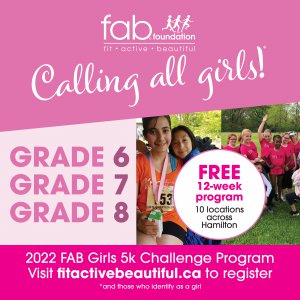 With the program running from March to June each year, the FAB girls and their coaches meet once a week for 90 minutes of physical activity, snacks and goal-setting talks. The program takes place in various locations across the city, creating access for many people. All are encouraged to learn more about this opportunity by visiting the FAB Foundation website. You can also follow the FAB Instagram account for more program details.
If you're still unsure about joining the FAB Girls 5K Challenge, here are some final thoughts from Andric:
"It was never about being the best or the fastest runner, but rather about setting goals and being proud of your own achievements! The FAB coaches and the other girls become close friends and cheer you on every step of the way. FAB isn't just a fitness program, it's a wellness program that uses fitness as a tool. You learn to keep your mind and body healthy.
Updated on Wednesday, April 27, 2022.