Here's a look at the new restaurants, drinking establishments, hotels, conference spaces, private rooms and other spaces available for Dallas/Fort Worth events this fall. The newly renovated Dallas/Fort Worth venues are available for corporate parties, weddings, fundraisers, outdoor receptions, business dinners, team building activities, conferences, meetings, etc
Hilton Dallas-Lincoln Center
In August, the Hilton Dallas Lincoln Center completed a two-year, $24 million renovation of all 503 guest rooms and public areas. The hotel is now outfitted with modern technology and amenities throughout the property, including in its 55,000 square feet of event space, as well as new furnishings and artwork. The redesign of the entire property also saw the launch of the new 6,600 square foot Lakeside Ballroom. Of the Hilton Dallas Lincoln Center's 25 additional meeting rooms, the largest is the 9,954-square-foot Lincoln Ballroom, which can accommodate 1,200 people for receptions and 650 for seated banquets. Other highlights: the 4,000 square foot Reflections patio, which can accommodate 100 people seated or 150 cocktail style; the 3,036 square foot Bluebonnet room that can accommodate 150 people seated or 220 for a reception; and the 1,485 square foot Conservatory that can accommodate up to 80 people seated or 120 people for cocktails. Several smaller breakout rooms range from 230 to 832 square feet and can accommodate 10 to 70 people depending on seating configuration. Elsewhere on the property, guests can enjoy a resort-style outdoor pool, state-of-the-art fitness center, and three restaurants. For multi-day corporate meetings or groups wanting to celebrate in Dallas over a weekend, the Hilton Dallas Lincoln Center offers room block deals when booking a minimum of 10 rooms. And the hotel will create an attendee website with everything your attendees will need, from event dates and information to the special rate code associated with the block of rooms.Photo: Courtesy of Hilton Dallas Lincoln Center
keep it at home
Because event professionals know there's nothing to mix and mingle without food and drink, Hilton Dallas Lincoln Center offers catering for on-site events so planners don't have to. look no further than its breakfast, break, lunch, dinner and bar menus—barré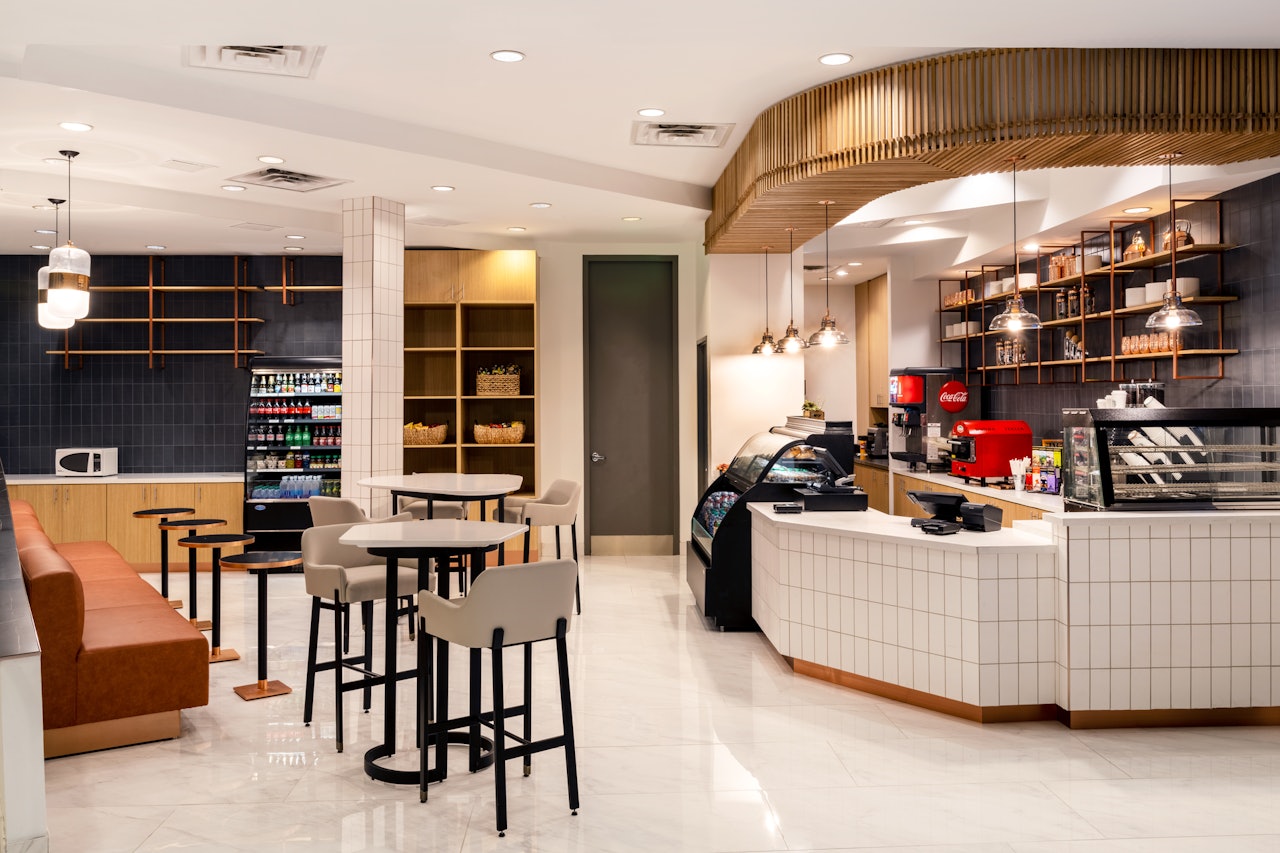 Hilton Dallas Lincoln Center's three on-site dining concepts include a Texas restaurant, Crockett's Restaurant & Bar, as well as H Bar and L'Express (pictured) for take-out options.Photo: Courtesy of Hilton Dallas Lincoln Center by Executive Chef Carlos Castillo, to satiate guests. Buffet and plated meals stand out for their seasonal ingredients and net zero food waste. Hosting a seated dinner? Dinner highlights include airy, herb-crusted chicken breast made with peppercorn sauce, mushroom risotto, and roasted peppers in season; grilled beef tenderloin with Peruvian potatoes and grilled asparagus; and Atlantic salmon with grilled baby carrots in a soy-ginger glaze. Prices range from $15 per person for chilled entrees to $140 per person for a double main. And for a midday pick-me-up during long corporate meetings or conferences, 30-minute afternoon break setups can either boost antioxidants with cranberry-almond crunch, garlic crudite hummus, and vitamin water; increase vitality with energy bar snacks, mini Mediterranean chicken wraps and whole fruits; and get inspired by the falling leaves, where professionals can sample Fig Newtons, roasted pumpkin trail mix and hot apple cider. Prices range from $25 to $29 per person.
The Hilton Dallas Lincoln Center also has three on-site dining outlets, including L'Express for take-out pastries, gourmet breakfast and lunch sandwiches, and complimentary coffee from Starbucks; as well as Crockett's Restaurant & Bar for out-of-town guests who want a taste of Texas, literally. For groups looking to network or unwind after a long day, the H Bar adjacent to the hotel lobby is the perfect spot.
Keep scrolling to see inside six new event-worthy venues in Dallas/Fort Worth…
---
Lexy's Dallas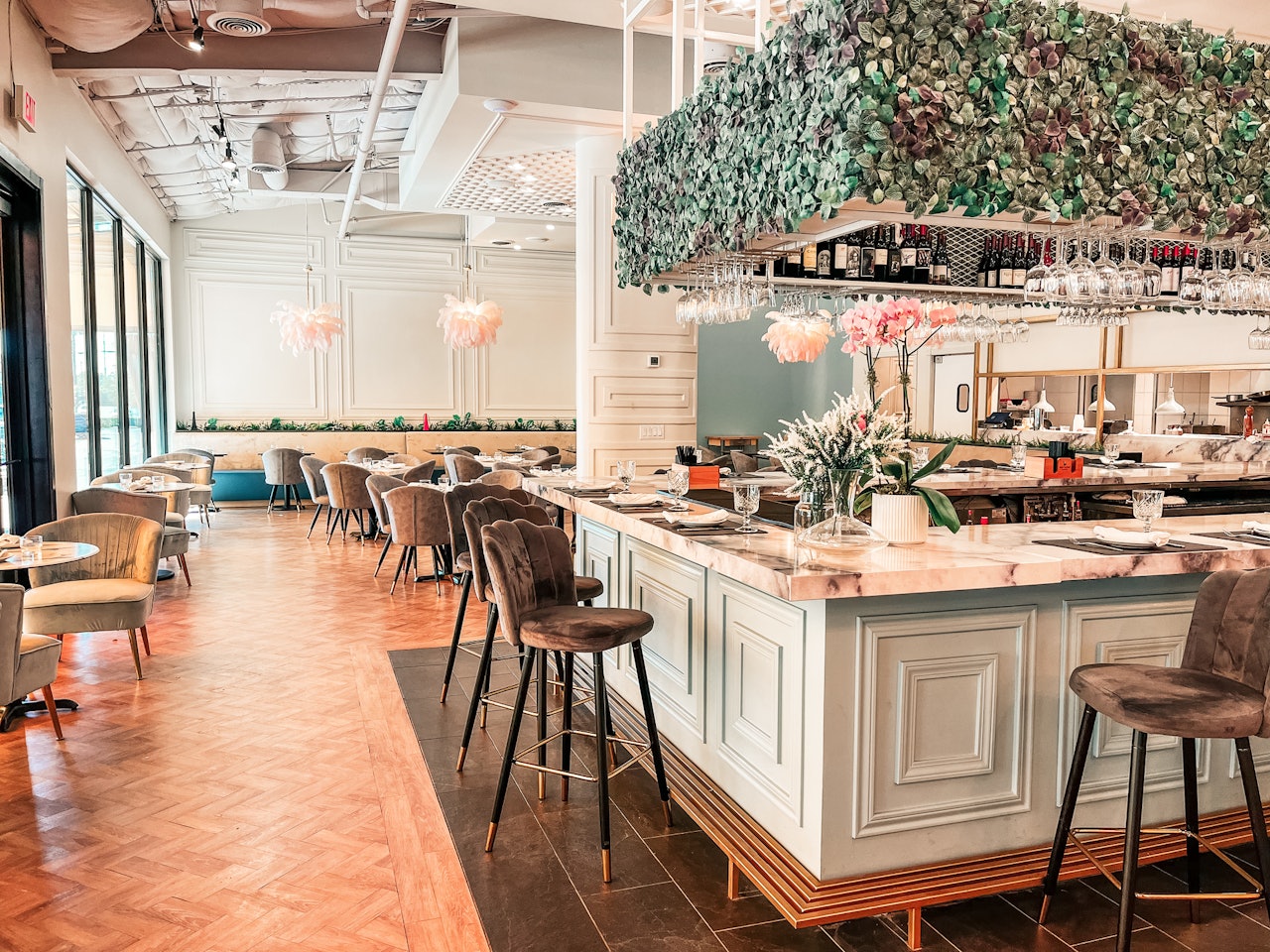 West Dallas hosted Lexy's Dallas in August. The restaurant is designed to lean into a feminine vibe, which it does successfully with a subtle pastel color palette, stunning botanical decor, marble tables, and even a Moet Champagne vending machine. The menu features fun but fancy dishes like truffle burgers, seared pork chops, and lobster grilled cheese. Indoors, the 2,000 square foot space can accommodate 125 people, with seating for an additional 100 guests on the 2,000 square foot outdoor patio.Photo: Alexa Rodarte

Serendipity Labs McKinney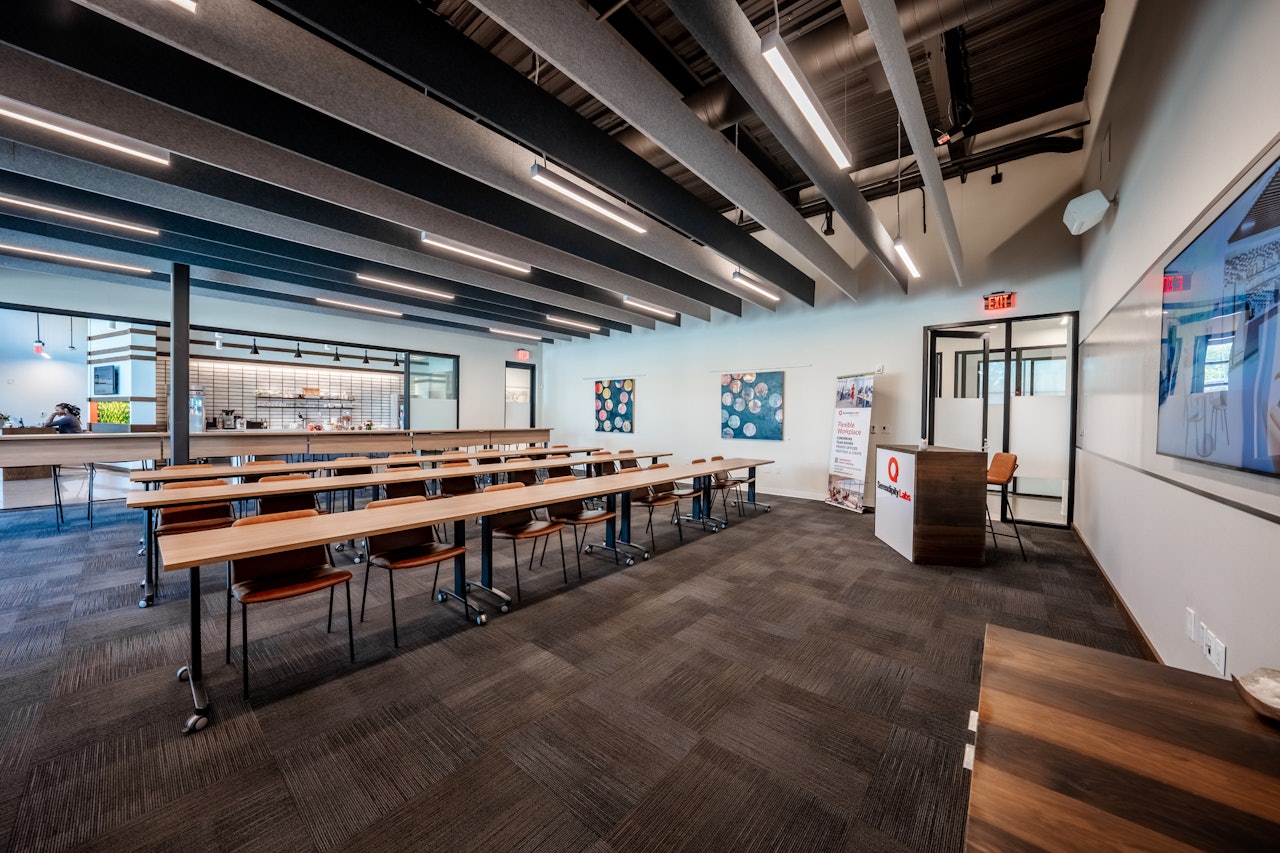 Coworking and community space Serendipity Labs opened a McKinney location in June. Designed for meetings, trainings, workshops and networking events, the facility features state-of-the-art technology like Airtame wireless technology, large screen and HDMI presentation capabilities, high-speed virtual streaming , Logitech webcams, whiteboards, and more. . Planners can book a variety of spaces, including the 3,000 square foot ideation studio, a 2,000 square foot salon, and a 500 square foot meeting room. Depending on the room, the venue can accommodate up to 250 guests for networking events, 150 for cocktails and 50 for classroom presentations.Photo: Courtesy of Serendipity Labs

Hilton Dallas/Southlake Town Square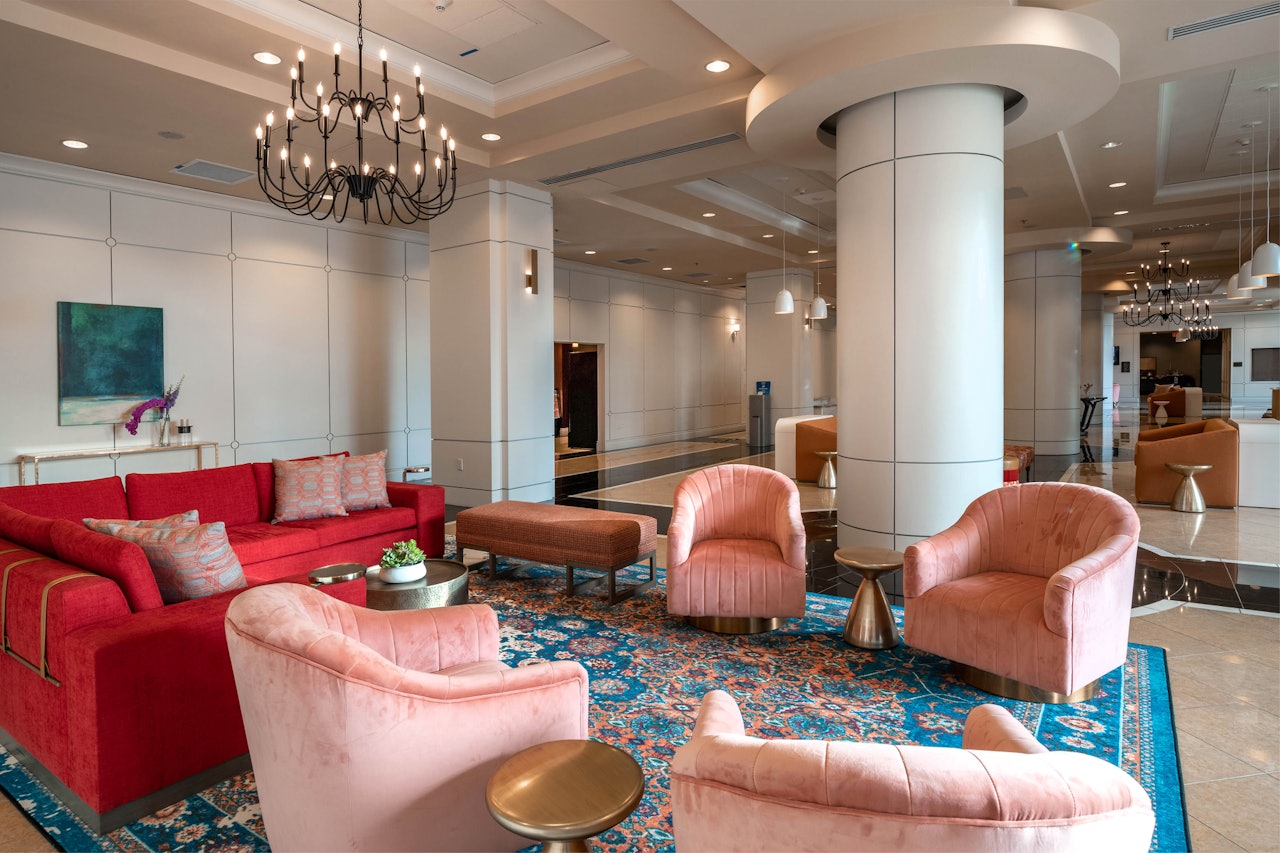 Hilton Dallas/Southlake Town Square completed a renovation in September, and the update touched all areas of the property. The lobby now doubles as a chic lounge area (photo); the 248 rooms and suites feature updated and upgraded decor and furnishings; the fitness center is larger at 300 square feet and equipped with state-of-the-art equipment; the outdoor swimming pool and the veranda have been redone; and the on-site restaurant has been reinvented as Copeland's of New Orleans, a Cajun-Creole restaurant and oyster bar. The hotel also replaced carpeting, furniture and wall coverings in the 17,483 square feet of meeting and event space, from the 8,000 square foot Statler Ballroom that can accommodate 850 guests for receptions to several smaller boardroom-style breakout rooms.Photo: Courtesy of Hilton Dallas/Southlake Town Square

by Caterina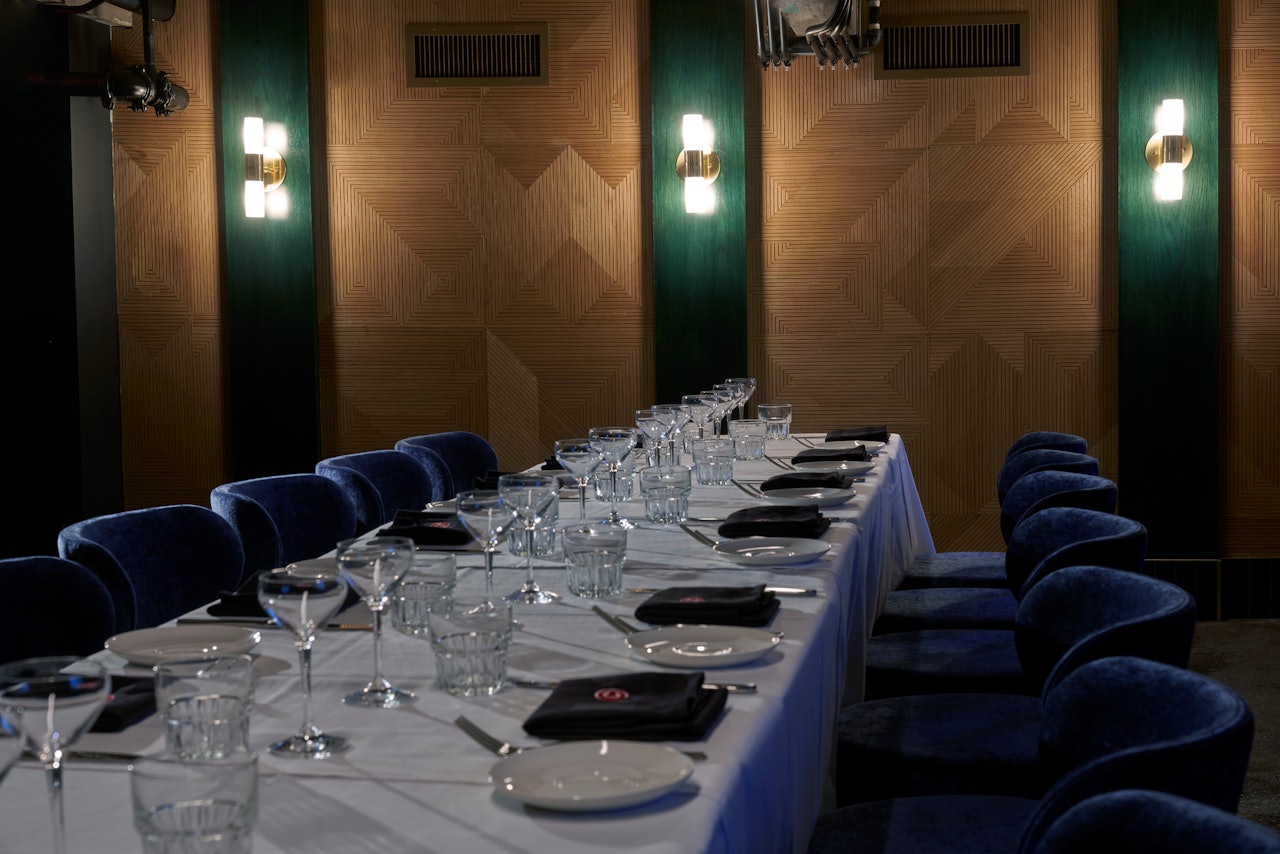 Fort Worth-area chef restaurateur Tim Love's latest venture, Caterina's, opened at the Fort Worth Stockyards in July. The classic Italian-style restaurant is decidedly upscale, with men required to wear tuxedos and patrons encouraged to keep their phones in locked pockets while dining. Crystal light fixtures, brass bar stools and an antique metal staircase are among the luxurious details that adorn the restaurant. Redemptions are available, and for smaller groups, the intimate main dining room seats 30, a downstairs private dining room seats 10, a private mezzanine dining room seats 20, and the bar seats six and has a view of the kitchen. There, guests will observe the preparation of sumptuous dishes like homemade linguine with clams, garlic and lemon; parmesan veal chop; and Wagyu Beef Striploin Steak in New York.Photo: Kevin Marple

Bar Eden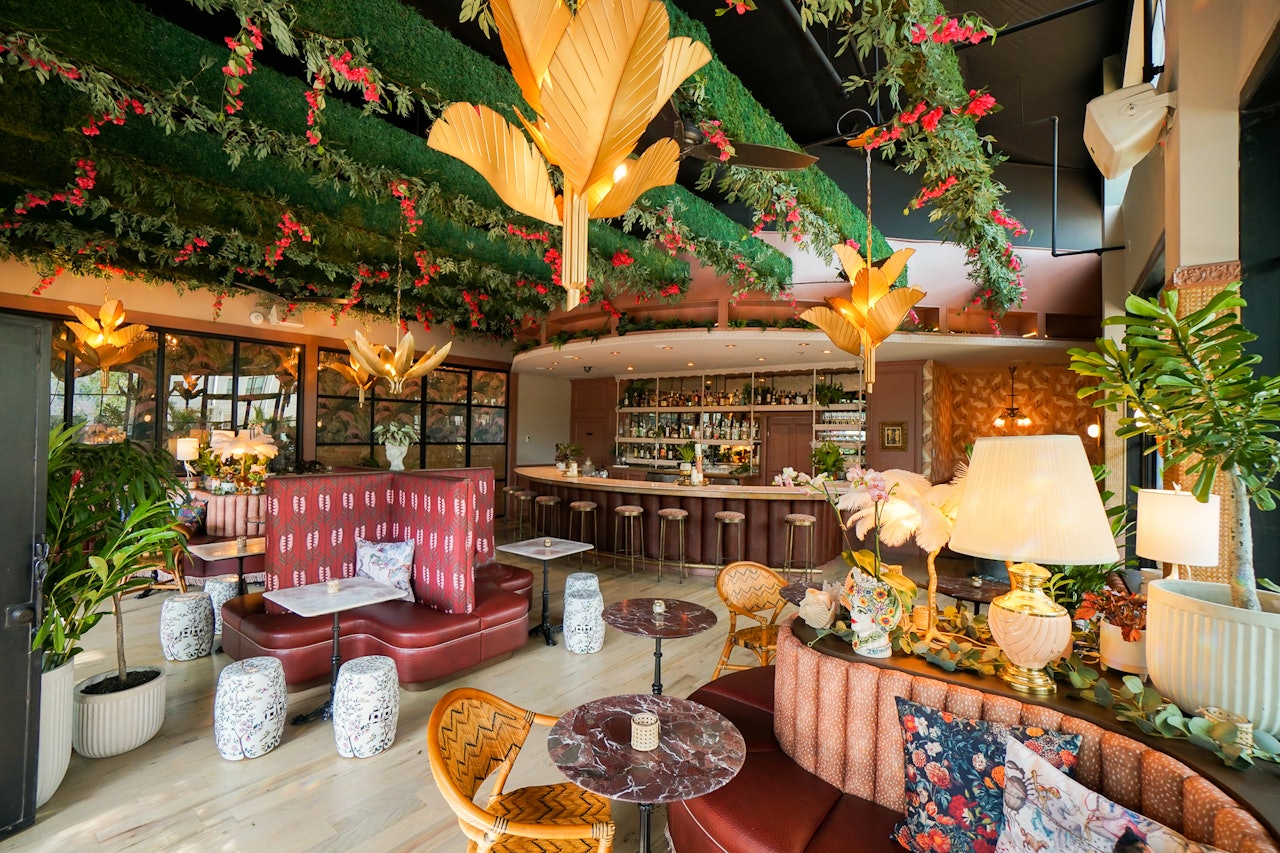 Bar Eden, part of the Paradiso complex of food and drink outlets in Bishop Arts, was relaunched in August. Sprawling over 2,070 square feet, the leafy venue is indeed idyllic, seamlessly blending decor of different styles with whimsical greenery inside, comfy seating and ornate light fixtures outside, and doors that s open wide to join the two. The space can accommodate up to 55 guests for cocktails and is equipped for live music and DJ connections. Here, the focus is on craft cocktails, which are paired with elevated bass bites like beef tartare and fried squash blossoms. Also newly available for private events within the resort is Paradiso Privee, a 385 square foot private dining room that seats 20 and serves the Paradiso Restaurant menu.Photo: Elizabeth Bronson

Willie D's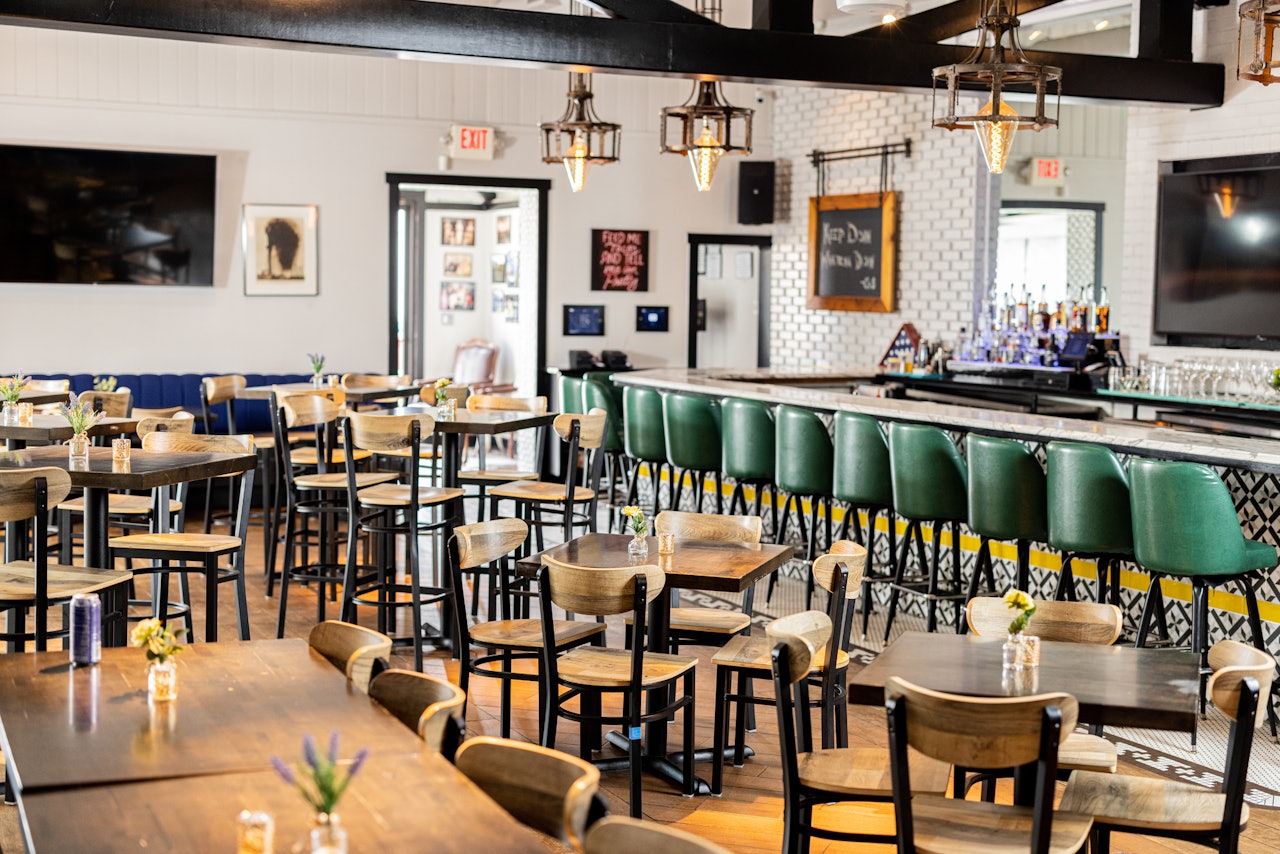 September saw the opening of Willie D's, an inviting restaurant and bar inspired by the welcoming atmosphere of a classic South Texas icehouse. The menu features newly interpreted, premium versions of old-school favorites, like house burgers, crab-stuffed oysters, and barbacoa tacos made with fresh tortillas. Innovative cocktails range from margaritas with habanero-infused tequila to a mule made with Martha Stewart CBD drops. The 4,500 square foot space can accommodate up to 80 people indoors, with room for an additional 25 people on the terrace.Photo: Kathy Tran

This list is sponsored by the Hilton Dallas Lincoln Center.