Age can be just a number, like points in a friendly doubles tennis match. But competition or not, someone always ends up on top.
Ninety-nine-year-old Phillip Allman Jr. plants his sneakers just beyond the baseline, gives the tennis ball a few preparatory bounces, then sends it high in the air. The serve lands wide, so he pulls another ball out of his pocket and back into position. He throws, swings and connects with a solid "thwank". The serve is good and a lively four-man volley ensues.
Even now, deep in the third set after more than an hour on the court, Allman's energy seems as constant as his socks.
"I'm only 81. He's the king," said tennis buddy Lonnie Weaver. "When I get up in the morning and I don't want to come, I say, 'What would Phil do?' There are a lot of guys who do that. »
There's no doubt that Allman is the oldest of the senior "super" tennis group that meets Mondays and Fridays at the Life Time Fitness Center in Colorado Springs. He is certainly older than the oldest competitive player in the world, Leonid Stanislavskywho turned 98 last month after reluctantly fleeing his war-torn native Ukraine for Poland.
Is Phil Allman the oldest tennis player in the world? Cool to consider. Unable to call.
The almost centenarian himself is quick to point out that such a contest is not child's play. Tennis can be tough on joints and tendons, but it's also the sport most associated with a long life. (Seriously. They did studies.) That's not why Allman is playing, of course, just marginal advantage.
"I was glad to hear that. I feel like that's a big part of my longevity," he said. "That, and a good family, a wonderful son and daughter; good friends, a good career…and always with the mindset that you can do it.That was my motto: you have the ability to triumph.
Allman isn't just talking about tennis, a sport he started at age 70. Triumph, he learned, takes many forms. It's not so much about winning as about perspective. Better yet, retrospective.
"I am not a champion. I didn't do all those big things," Allman said.
Others would respectfully disagree.
Allman is a retired lieutenant colonel, who served in the navy during World War II and in the army during the Korean and Vietnam wars. In between, he used the GI Bill to earn his undergraduate, graduate, and doctoral degrees and, after retiring from service in 1969, served as a high school principal and taught at colleges in several states, including Pikes Peak Community College.
"This guy has stories, if you have three hours to sit down and listen," Weaver said. "Tom Cruise said he would play him in the movie. It's a blockbuster."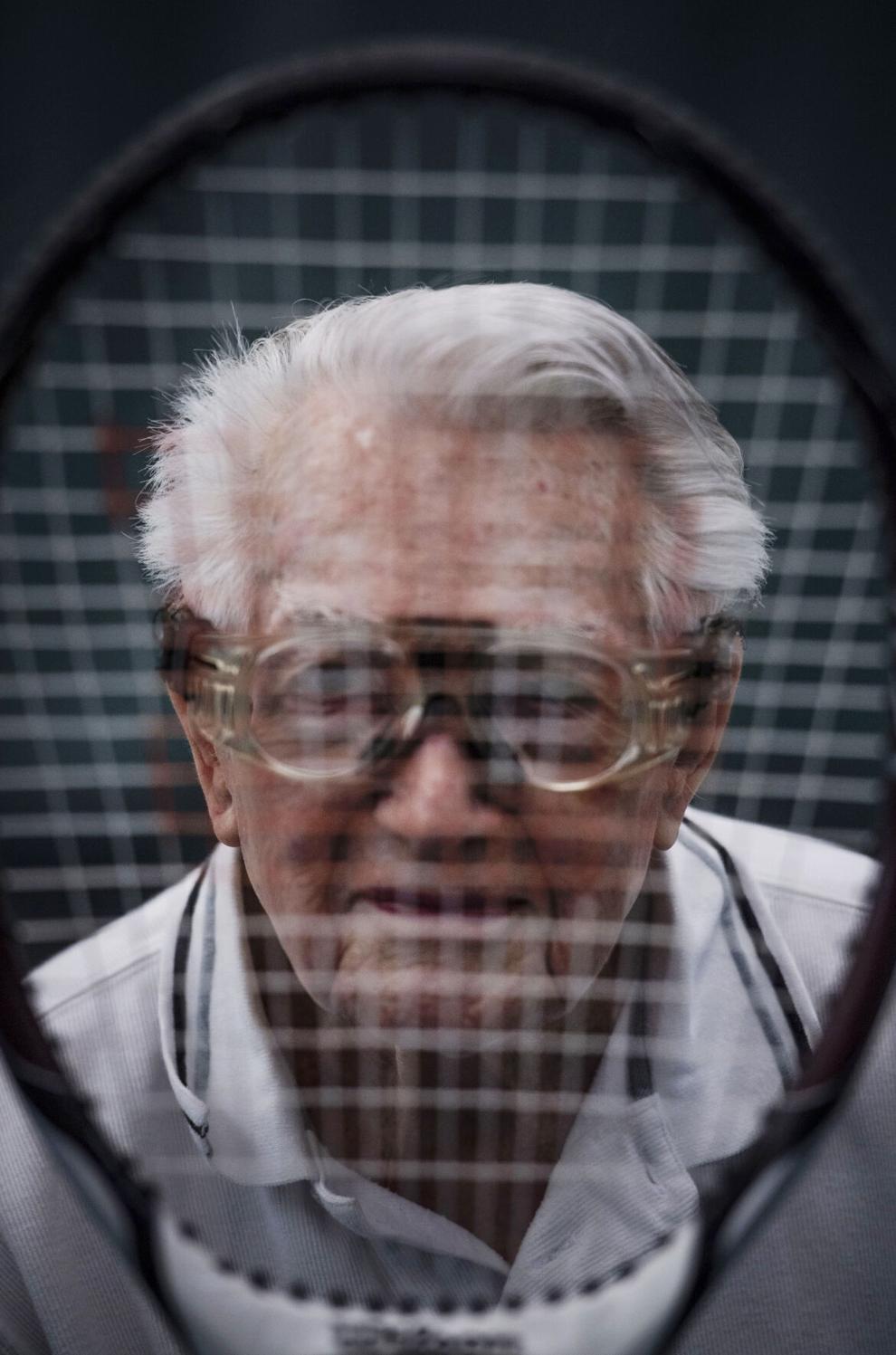 Allman humbly concedes, "I've done a lot of things."
He had always been athletic, but aside from a bit of boxing when he was young and volleyball when he was on duty, those things never included recreational sports. Until he retired from academics, there was simply no time.
"I played a bit with my son, just hitting balls to get him started in tennis, and also with one of my grandsons. So that I could at least hit a tennis ball," said Allman said "But I had never played in any type of organized band before."
His son is now 75 and is one of California's top senior players.
His grandson went on to earn a full tennis scholarship to Cal Poly Tech.
The love of tennis took a little longer to take root in the man who casually introduced them to the sport.
Allman remembers the day he took his first doubles tennis lesson on April 1, 1993, at the old Lynmar Racquet Club, where a senior tennis group had just started.
The club was taken over by Life Time in 2011 and the band began playing on the brand new indoor courts at the huge northeast Briargate complex.
Except for a handful of occasions, when Allman had medical issues that forced him to give up the game, he did so at least twice a week for nearly three decades. He is the only OG currently actively playing with the band, and the only one in his 90s.
"I've never been in real competitive type tennis, and there are a number of people in my group who have," Allman said. "In that regard, even though I've been with him for 30 years, I'm kind of a junior."
When his 74-year-old wife, Daisy, died in 2019, the bonds he had forged through tennis became an even more important part of his life.
"Tennis kept him going, not just because of the athleticism — it builds, it's flexibility — but also socializing with other people," Allman's son-in-law Jeff Hale said. . "It became an increasingly important part of his life, as more friends passed away and as he got older, he felt more and more that tennis had helped him carry on."
What Allman immediately loved about the game in 1993 – the exercise, the inspiration, the camaraderie – is what he still loves today. But like all epic romances, the relationship matured over time.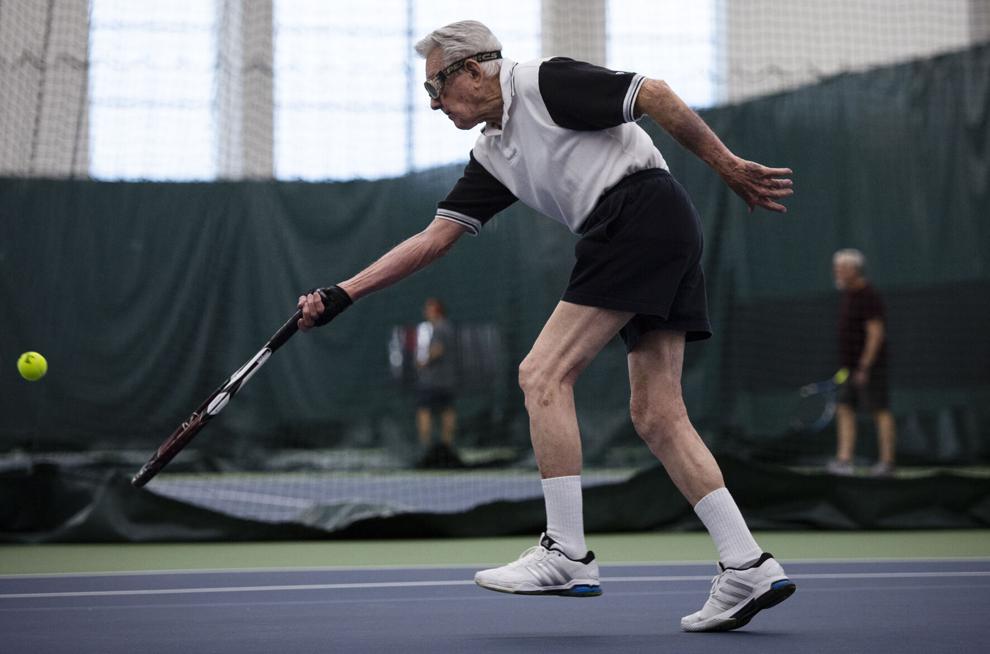 And there are two sides.
"Everybody knows him, just because he's Phil. He's our guy. He's our inspiration and he's the nicest guy ever," said Sandie Trupp, who runs Life Time's tennis office.
Allman, she said, embodies what she loves about the game, body and soul.
"I love seeing people who are just inspiring, and he's one of them," Trupp said. "I don't know what special things he possibly does, I can't imagine, but he just keeps going. We can't wait to celebrate its 100th.
This party is scheduled for January 2023. Until then, we'll leave you with some words of wisdom from Phil Allman, the oldest tennis player we've ever met:
Have a good life. Triumph. And "learn to play tennis".