expect the miracle
Kayla Miracle and Jennifer Rogers had a best-of-three streak on August 13. Miracle – 2021 world silver medalist – has postponed her Final X match with Rogers due to injury. The two met in Lancaster, Pennsylvania to determine the 62kg spot at the upcoming Senior World Championships.
The back-and-forth battle has been one of the most interesting and unpredictable series since the Final X format began in 2018. Below are all three matches in full.
Game one: Rogers technology. Miracle, 13-2, 4:49
Match Two – Miracle Technology. Rogers, 12-2, 3:00
Match 3 – Miracle Dec. Rogers, 5-3
Miracle training
Kayla Miracle was a four-time WCWA Champion (2015-18) for her father, Lee, at the University of Campbellsville. The Tigers have won the last two NAIA Invitational Championships and in 2023 they are looking to win the first sanctioned women's collegiate wrestling tournament.
Part of the championship process is a pre-season SEAL practice test. Miracle was on active duty in the Navy until 2012, working with explosives and as a diver. He gives the team a week to figure out the courses, then puts them through a training schedule on September 1.
"It's a physical fitness test you would give someone in the military," Miracle said. "The only thing we don't do is the swimming part. At the moment, everyone is training for the physical fitness test.
"They make sure their three-mile run is good. They make sure their push-ups, sit-ups, and rope climbs are good. If they have never climbed a rope before, they will obviously have to. It's always a challenge for some of the new ones. They also know they're going to have a Miller Park Hill day and it's a day they're a bit dreading. When we go to Miller Park and climb those hills, it's pretty tough.
Here's a breakdown of Miracle's pre-season training schedule:
Physical Training Program I:
(Mon/Wed/Fri)
Sets of repetitions:
Week #1: 4x 15 push-ups
Week #2: 5 x 20 push-ups
Week #3-4: 5 x 25 push-ups
Weeks #5-6: 6 x 25 push-ups; 4×20
sit-ups, 3 × 3 pull-ups, 2 × 8 pull-ups
Weeks #7-8: 6 x 30 push-ups, 5 x 20
push-ups, 3 x 3 pull-ups, 2 x 10 pull-ups
UPS
Week #9: 6 x 30 push-ups, 5 x 25
push-ups, 3 x 4 pull-ups, 3 x 10 pull-ups
UPS
*Note: For best results, alternate exercises
Running program I:
Weeks #1-2: 2 miles/day, 8:30 a.m.
pace, M/W/F (six miles/week)
Week #3: No race. High risk of
stress fractures.
Week #4: 3 miles/day, M/W/F
(nine miles/week)
Weeks #5-6: 2/3/4/2 miles,
Mo/Tue/Th/F (11 miles/week)
Weeks #7-8: 3/4/5/2 miles,
M/Tues/Thurs/Fr (14 miles/week)
Week #9: Same as #7, 8 (14
kilometers/week)
Conquer the world
Two World Championships by age level are scheduled with the Senior World Championships (September 10-18) and the U23 Worlds (October 17-23) on the horizon. Here are the results of the U17 and U20 Worlds with an overview of the composition of the two remaining teams.
U17 World Championships
Team: 4th
40kg: Megan Valdez
43kg: Erica Pastoriza, SILVER
46kg: Gabriella Gomez, SILVER
49 kg: Audrey Jiménez
53kg: Elena Ivaldi
57 kg: Shelby Moore, FIFTH
61kg: Valerie Hamilton, SILVER
65kg: Sydney Perry, FIFTH
69kg: Jasmine Robinson
73 kg: Kaiulani Garcia, FIFTH
U20 World Championships
Team: 3rd
50kg: Audrey Jimenez, SILVER
53kg: Katie Gomez, BRONZE
55 kg: Adriana Dorado Marine
57kg: Sofia Macaluso, SILVER
59 kg: SaVannah Cosmé
62kg: Adaugo Nwachukwu, BRONZE
65kg: Reese Larramendy, FIFTH
68kg: Destiny Rodriguez
72kg: Amit Elor, GOLD
76kg: Tristan Kelly, BRONZE
Senior World Team (September 10-18)
50kg: Sarah Hildebrandt
53kg: Dom Parrish
55kg: Jacarra Winchester
57 kg: Helene Maroulis
59 kg: Abby Net
62kg: Kayla Miracle
65 kg: Mallory Velté
68 kg: Tamyra Mensah-Stock
72 kg: Amit Elor
76kg: Dymond Guilford
U23 World Team (October 17-23)
50kg: Nyla Valence
53kg: Felicity Taylor
55kg: Alisha Howk
57kg: Alex Hedrick
59kg: Lexie Basham
62kg: Alex Liles
65 kg: Emma Bruntil
68 kg: Siena Ramírez
72 kg: Amit Elor
76kg: Dymond Guilford
Who's number one?
The Women's Who's Number One card is scheduled for September 9 in Ann, Arbor Michigan. Below are the matches with links to information on each individual fight.
94 pounds: Erica Pastoriza vs. Morgan Turner
100 pounds: Gabriella Gomez vs. Valarie Solorio
106 pounds: Clare Booe vs. Gigi Bragg
112 pounds: Ava Ward vs. Alex Szkotnicki
117 pounds: Persaeus Gomez vs. Elena Ivaldi
122 lbs: Cadence Diduch vs. Everest Leydecker
127 lbs: Skylar Little Soldier vs. Shelby Moore
132 pounds: Janida Garcia vs. Valerie Hamilton
138 pounds: Sarah Henckel vs. Zaynah McBryde
152 pounds: Jasmine Robinson vs. Mishell Rebisch
Spotlight on Women
Check out the latest Women's Spotlights featuring Ava Ward and Clare Booe. The two compete at Who's Number One.
Ava Ward will face Alex Alex Szkotnicki at Who's Number One on September 9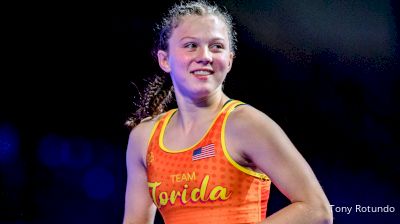 Clare Booe will face Gigi Bragg at Who's Number One on September 9